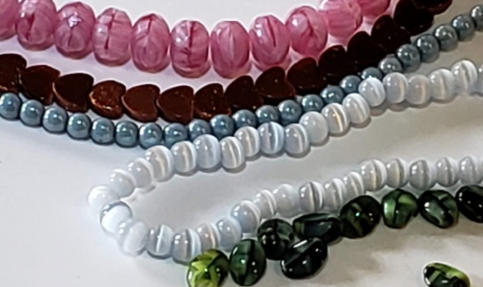 This is a gallery of my past and present work.
Each piece is unique. If you see something you
like email me about custom work just for you.
Little Green Flowers Necklace
OOAK necklace with green flowers.
Heart shaped focal makes a great
anniversary or birthday gift. Or a
wonderful jewelry gift for yourself.
21 inches long
10/0 seed beads - brown travertine and
yellow cream, Czech glass square 2 hole
beads,Nib-bits, Superduos
Fragile Environment Necklace
A fun 3 strand necklace - light green like
the grass in spring. OOAK. Unique
necklace with sparkly gold/brown glass
beads.
44 inches long
Goldstone round 6mm, Czech Glass
Luster Opaque Rose Gold Topaz Round
3mm,
15/0 -Toho Round seed beads Silver-
Lined Lemon, Toho Transparent Olivine
seed beads, light green seed beads,
11/0 - Toho Terracotta seed beads
Bronze colored one sided toggle -wear it
in front or back!
Spiral Choker in Blue, Pink,
Brick and Amber
Chunky unique choker necklace. Made
with multi colored and sized seed beads
in a beautiful spiral stitch. About ½ inch
in diameter
.
15 inches long
11/0 - Brick Colored Toho beads,
transparent turquoise seed beads.
8/0 - pink seed beads, and translucent
amber beads
2 - 6 mm pink glass rondelles
toggle clasp
This is a short spiral necklace so please
measure to make sure it will fit.
Tubular Stitch Lariat
This lariat necklace is so long it can be
double knotted. Browns and greens
with stars in the dangly fringe (7 inches
long) Beautiful jewelry gift. Or a special
necklace for yourself.
43 inches long
11/0 - Green, yellow, blue seed beads
8/0 - Root beer seed beads
4 mm Czech glass round beads - blue
luster and brown
8 mm Czech glass stars - orange and
green with yellow streaks
Hoo Hoo Hoo are you?
Necklace
Owl sitting on a branch pendant
hanging from a spiral tubular necklace
in blue, yellow and brown. Little blue
owl (½ inch tall or ¾ inch including the
branch). OOAK. Unique necklace.
20 inches long
Ceramic owl
11/0 seed beads - dark blue, light blue,
yellow, brown
5mm spacer beads
toggle clasp
Removable pendant.
Marmalade Flowers Necklace
Pretty blue, gray and orange spiral
necklace with an orange pendant of 3
flower beads. Unique OOAK necklace
with removable pendant.
14 1/2 inches long
Czech Glass orange flowers - orange
11/0 seed beads in gray and blue, 8/0
orange seed beads
silver colored toggle clasp
This is a short spiral necklace so please
measure. Pendant is removable.
La La Llama Necklace
OOAK Llama necklace in creamy white
seed beads with a blue seed bead
background and decorated chain.
Llama is adorned with a flower necklace
of his or her own and has fringe on the
bottom (⅞ inch on the outside
graduating to 1 ⅝ inch in the middle.
17 - 18 inches long
Focal 4 ½ inches
Made with seed beads in opaque
rainbow cream, opaque light blue, white
lined jonquil, green and silver lined
burnt orange
Peyote Triangle Necklace
Unique terracotta, blue, orange and
light peach seed bead chain and
triangular pendant (removable)
decorated with flowers.
19 inches long
Double sided removable pendant
1 1/4 inches with a bead inside (for a
little puffiness)
Made with seed beads - terracotta blue,
peach and orange
simple hook clasp

Heart to Heart Necklace
Called this necklace Heart to Heart
because I collaborated with my beads to
get this design. Unique OOAK
asymmetrical design with orange
centered light green flowers.
17 - 18 inches long
Light green 2 holed beads - nib-bits
3 mm cats eye beads orange and green
11/0 seed beads peach ceylon and brick
Order Amongst Chaos Lariat
Necklace
33 ¼ inches long
10/0 seed beads of many colors
Each panel of this lariat necklace is a
little different from the one before.
Made of blocks of colors - chaos and
then order. OOAK, unique necklace.
11/ 0 seed beads - yellow, orange, red,
green, light blue,darker blue, purple and
gray
Bead Art Gallery