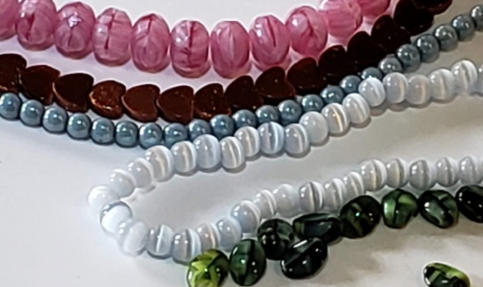 Bead Art Gallery - Page 7

Copper, Black, Green, and
Burnt Orange Necklace Set
21 inches long
pendant - 1 inch
Copper colored 2 hole beads with black,
rainbow emerald, and burnt orange seed
beads. This bold necklace is very fun - the
seed beads are woven into a cubic shape
that is repeated with the 2 hole beads.
Unique.
Seed beads 11/0 black matte, rainbow
emerald green and burnt orange
2 hole beads - copper color - superduos
and tiles
Button and loop clasp
Brass earwires
Garden Path Necklace Set
18 inches long
Earrings - 1 3/4 inch
Take a stroll through the garden path -
lots of flowers, grass and leaves. Fun, one
of a kind necklace with brown/green tiles
and many colors. A very fun spring
necklace. Celebrate!
Brown/green tiles 6 mm, 11/0 seed beads
in brown and green, 15/0 seed beads in
green, orange, silver lined yellow and
turquoise, 5 mm yellow flowers, 7 mm
yellow flowers, Czech glass druk beads 4
mm in orange and 3 mm gold, 4 mm
bicones in orange and blue
Brass earwires and clasp
Parisian Flair
27 inches long
Earrings - 1 3/4 inch dangle
This St. Petersburg woven necklace
reminded me of Paris. The lustrous topaz
and the matte ivory beads are a
wonderful contrast to the shiny clear blue
crystals. The 8 x 5 mm blue crystals are
shaped like little spaceships with lots of
facets to catch the light. Pretty, feminine
necklace set - very pretty when worn.
3 mm lustrous Czech Glass topaz Rounds
11/0 Toho Seed Beads Light Ivory
8 x 5 mm Faceted Rondelles - Deep Sky
Blue
Button Clasp - Gold Colored- old
Gold Stainless Earwires
Long Lariat Set
47 ¼ inches long
Earrings - 1 ½ inch dangle
This long lariat can be worn many ways.
The pink and black 2 holed beads make
for an elegant, vintage look. And the Ivory
beads add lightness. There is a tinge of
copper in the 2 holed triangular beads. A
very lovely set for a lovely lady who loves
long lariats.
11/0 Toho Seed Beads Light Ivory, Ceylon
Pink Toho
5mm 2 holed beads -black superduos,
lined pinky-peach twins
Czech Glass Pearls - 4 mm and 6mm
Gold Stainless Earwires
Amazonite Cubes Necklace Set
22 inches long with 4 1/4 inch center
dangles
Earrings - 1 1/4 inch dangle
Unusual, unique necklace set with
amazonite and seed beads. Pretty with
pink seed beads repeating the squares of
amazonite. A fun necklace set. Lovely
colors - Ivory, Impatiens Pink and blue-
green amazonite.
Amazonite 7 mm cubes
11/0 Toho seed beads - Ivory and Ceylon
Impatiens Pink
3 mm Czech glass rounds topaz
Silver colored clasp
Stainless Steel Earwires
Turquoise Magnesite Pendant
Necklace
21.5 inches long with 1 inch long Pendant
Some girls just love the color turquoise - if
that's you or your girl - here is a lovely
necklace. The pendant is made from
turquoise magnesite and seed beads.
Such fun to wear.
11/0 seed beads - Delica Opaque Rainbow
cream, Toho Silver Lined Burnt Orange
15/0 seed beads Rocailles in Teal,
Turquoise Magnesite Drop 15 x 20 mm
Button (plastic) closure in Teal with a loop
Tubular Multicolored Lariat
42.5 inches long
Long lariat necklace with orange, blue
and red raspberry colored flowers with
green vines and bands in the same colors
on a background of rainbow cream. With
spots of yellow. A very fun, happy
necklace. Can be worn in many ways.
Unique, handmade.
11/0 seed beads - Raspberry Red AB,
Blue, Orange Luster, Rainbow Cream,
Yellow, Green
Chenille Necklace with Cherry
Red Jade Stones
23 inches long
Hand woven seed bead necklace with
beautiful translucent Cherry Jade stones.
This unique necklace is constructed of
pink, blue and red seed beads with 3
stones separated by a pink bead and
bead caps on either side and matching
caps on the ends.
11/0 seed beads - Red AB, Blue
8/0 seed beads Ceylon Pink
8 mm Cherry Red Candy Jade Rounds
Silver toned bead caps
Stainless Steel Clasp
A Nod to the Earth and Moon
Necklace
22 inches long
When I first opened the package of
Calsilica beads I was so surprised to see
how much they resembled Earth. So I
added little glass pearls to represent the
moon and clear glass seed beads for the
stars. There is a loop on one end that fits
over the first bead on the other end for
closing. And a little metal star. A fun,
unique necklace for an astronaut, an
astronomer, an astrologist or anyone who
loves looking at the sky.
10 mm Blue Calsilica Jasper Rounds
4 mm Glass Pearls
15/0 seed beads - clear crystal
8/0 seed beads - Turquoise
15 mm metallic star
Summer of Love Necklace #3
29 inches long
I love making necklaces with flowers.
This one has strong blue flowers and
blocks of random colors. The background
color is a very light yellow. Great for a free
thinking girl who loves to have fun.
11/0 seed beads - Pastel Cream Ceylon,
blue, tangerine - and lots of other colors -
pink, red, yellow, blue……