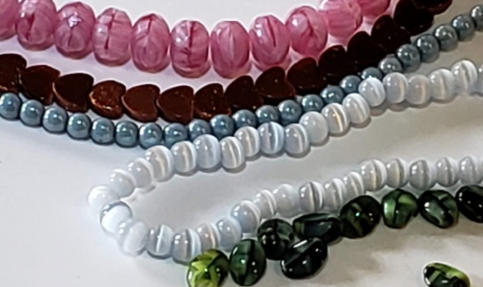 Bead Art Gallery - Page 4
Green and Brown
Chrysoprase Stick
Beaded Necklace
20 inches long
Like to call this necklace Mixed
Media because all of the beads
are so different. It makes for a
unique handmade necklace. The
goldstone beads add a fantastic
sparkle and the contrast between
the rectangular and round beads
is fun and attractive. Great
birthday necklace.
Bronze Hematite matte 4 sided
tube 4x2 mm, Goldsone Round 6
mm, Ocean Jasper Round 4 mm,
Chrysoprase stick slice focal 6-8 x
20-28, and Leopard jasper beads
8 mm, and a little monkey
Bronze toggle clasp
Lariat Seed Bead Necklace in
Green with Yellow Flowers
34 ½ inches long (fringe to fringe)
Handmade lariat necklace in green with
yellow flowers and burnt orange centers
and fringe with yellow flowers (3 ½ inches
long) and cats eye green beads on the
end of the fringe. Lovely necklace for
spring or Easter.
11/0 seed beads in green, yellow and
Silver lined burnt orange, 3 mm cats eye
beads in green
Snowflakes Seed Bead
Necklace in Ice Clear and Blue
24 inches long
Handmade , OOAK necklace with
snowflakes and matching earrings. Frozen
earrings and necklace. Dainty necklace
and earrings for the lady who loves
winter.
15/0 seed beads in clear ice and light blue
Stainless Steel Toggle Clasp and Earwires
Adirondack Necklace with
Moose Pendant
20 ½ inches long
Unique handmade necklace to honor the
Adirondacks. The colors - blue, green and
brown represent the water, the leaves
and the brown bark of this scenic area.
And of course the little glass moose
pendant (removable). The earrings and
the greenery above the moose are the
pine needles.
Glass Moose (1 ⅛ x ¾) , total pendant
length - 1 ⅝ inches long, 11/0 seed beads
in Blue, Green and Brown, 15/0 seed
beads in green, 4mm brown druk
beads,heart toggle gold color and
stainless steel ear wires gold colored, and
3 gold colored metal pine-cones
Tubular Seed Bead Necklace
Set in Peach and Brown
17 ½ - 18 3/4 inches long
Earrings 2 ⅝ inches long
Handmade, tubular, unique necklace with
peach and brown seed beads and
decorative pips and matching earrings.
Classic style in peach and brown.
Sophisticated looking necklace for that
classy woman.
11/0 seed beads in Frosted Rainbow
Rootbeer and Pastel Peach
Gold colored toggle
Gold plated bead caps
Stainless Steel Earwires in Gold Color
Tubular Seed Bead
Necklace in Peach, Orange
and Blue
20 ½ inches long
Handmade, tubular, unique necklace with
peach , orange and blue seed beads.
Orange and blue beads are scattered
among the peach beads for a fun, flirty
look.
11/0 seed beads in Peach ceylon, blue
transparent beads and tangerine beads
Gold colored toggle
Beaded Necklace Set with
Leopardskin Jasper and Faded
Coral Beads
17 inches long
Unique necklace with Leopardskin Jasper
beads and light coral porcelain beads
with bronze colored spacers and clasp.
Features an agate ammonite as a
pendant.
10 x 8 mm Leopardskin Jasper beads, 10
mm faded coral porcelain beads, 11/0
seed beads - Rootbeer frost rainbow
7 x 2 mm spacers bronze color
Bronze colored toggle with a floral
pattern on each side
Woodland Seed Bead Lariat
Set with Dangling Leaves and
Flowers
38 inches long
One of a kind beaded lariat necklace with
a woodland or jungle vibe. Dangling
leaves at the ends are 3 ½ inches long.
Lovely necklace for a nature loving lady.
Can be worn several ways.
Seed beads -11/0 - green, dark green,
travertine brown, light peach, rainbow
cream
15/0 seed beads - blue and green
8/0 seed beads - rootbeer brown
Black with Teal Sprinkles
Tubular Necklace Set
20 inches long
Black and Teal seed bead woven tubular
necklace and earrings.
Seed beads -11/0 - teal, matte black
Stainless steel toggle clasp and earring
wires
Cream, Purple and Salmon
Necklace Set
18 inches long
Unique, very feminine necklace and
earring set. V neck has a small (9 mm)
Swarovski crystal rivoli wrapped in beads.
The earrings are called Russian Leaves.
Seed beads -11/0 - Opaque Rainbow
Cream, and Purple/Salmon
Swarovski Crystal Clear AB (but looks pink
on the necklace)
Stainless steel toggle clasp and earring
wires