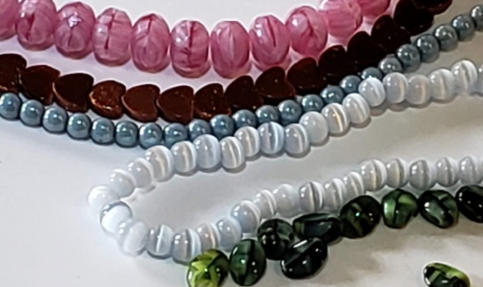 Bead Art Gallery - Page 16

























Lavender and Stars Necklace
23 inches long (Longest strand)
18 ½ inches long (Shortest strand)
A lovely necklace with lots of sparkle.
There are many beautiful beads of many
shapes. An elegant necklace for an
elegant lady.
Seed beads 11/0 - Toho Rainbow Crystal
with Gold Lining and Vintage French Opal
Violet
8/0 Seed Beads - Silver Lined Translucent
Lilac
5 mm Czech Glass Daisy Spacers Topaz
6 mm Czech Glass Crown Picasso Light
Sapphire And Antique Bronze
12 mm Lumi Brown Glass Star Beads
10 x 3 mm Czechmates Beam Matte
Metallic Goldenrod
13 x 17 Tierracast Magnetic Antique Gold
Plate Temple Stitch Clasp
Ornate Golden Necklace
23 ¼ inches long
Sparkly golden necklace with aqua and
pink contrasting colors. Lovely for
dressing up. Comes with a removable
closure with a toggle clasp.
Seed beads 11/0 - Toho Gold Lined
Rainbow Crystal, Opaque Lustered
Lagoon, Lustered Crystal Terra Cotta
Lined
8/0 Seed Beads - Silver Lined Translucent
Lilac
3 mm Czech Fire Polished Crystal Rounds
Apollo (Gold)
4 mm Czech Fire Polished Light Metallic
Rhubarb
3 mm Smooth Round Pearls - Cocoa
4 mm Czech Druk Pink AB Smooth Round
4 mmLeaf Green AB Crystal Faceted
Rondelle
6 mm Cream Baroque Glass Pearls
Tierracast Toggle Clasp 12mm with 18
mm Bar