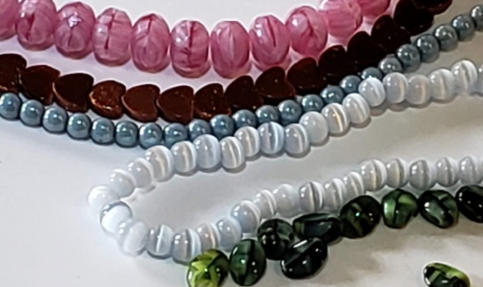 Spiral Baubles Necklace
OOAK necklace. Dark blue, green crystal
beads, black beads and light peach beads
swirl around a string of orange beads.
Makes a great unique necklace gift.
17 ¾ inches long
Dainty necklace with tiny (3 mm) Czech
glass beads in Opaque Green Opal
crystal faceted rondelle and Iris blue
melon rounds and light translucent
peach and opaque gray seed beads
spiraling around a spine of orange
beads.
Argyle Socks Necklace
The pattern of this spiral necklace
reminded me of argyle socks. A
geometric spiral necklace with 3
rectangular beads in the pendant. Make
a statement with this OOAK necklace.
19 inches long
Removable pendant 1 ½ inches long and
2 inches wide
Made with 3 sizes of seed beads in
black, lime green (tiny), very light peach,
and turquoise blue.
Rectangular black beads ½ inch X ¼ inch
2 - 8 mm beads champagne peach
Bead caps and small (12 mm) toggle
clasp

"O Tannenbaum" Christmas
Tree Seed Bead Necklace
Christmas Tree Necklace with a
different tree in each panel. OOAK
Christmas jewelry. Artistic gift.
32 ¾ inches long
Seed bead necklace with staggered
Christmas trees in many colors
Actually - this is more of a beaded scarf
than a lariat.
​Can be worn as a tied necklace or use
the optional loop to hold the 2 sides
together
Please see more photos at my store.
Right Spiral Left Spiral Seed
Bead Necklace
Spiral, tubular seed bead necklace with
center focal. OOAK. The spirals on each
side of the focal go in opposite directions.
And if the necklace is turned over the
stripes change from center down to
center up.
Seedbeads in brown travertine, buttery
cream and green irridescent, 5 mm topaz
colored Czech faceted beads,And a
tabular bead for the focal, and flower
spacers, toggle clasp
Dutch Spiral Tubular Woven
Necklace
Spiral, tubular seed bead necklace.
OOAK. The beads spiral in an open, airy
motion. The pearl Czech glass beads
swirl next to the gold and dark green
seed beads while the light green beads
connect the spirals. Perfect necklace for
a lover of green.
Pearl Czech glass rondelles 4 mm, seed
beads in gold, dark green and light
green
Autumn Leaves Necklace
Woven seed bead necklace with beige
background and many many colors of
leaves and beads hanging from the
fringe around the necklace. Fall colors
necklace with falling leaves - unique
necklace. Great for fall birthdays or just
the fall season. Beautiful and unique
necklace. OOAK
Many many beads of varying sizes and
shapes. Many leaves of green orange
red, brown and clear. Seed beads - Toho
Orange cream black diamond, 11/0
green, brown, orange and red
Pretty Pink Seed Bead
Necklace
Sweet 16 inches long
width - 1 ¼ inches
Woven seed bead necklace with pink
and silver lined pink seed beads. Unique
necklace for that girly girl. Great
necklace for a birthday present.
Beautiful and unique necklace. OOAK
Pink and silver lined pink seed beads
Woven Seed Bead Necklace -
Topaz and Red
23 inches long
width - 3/8 inch
Woven seed bead necklace with
champagne, red and topaz beads and
golden spacers. Unique necklace with a
refined look. OOAK
Czech glass beads in champagne and
topaz - seed beads in topaz color
Tree Frog Seed Bead Necklace
in Topaz, Golds, Brown and
Green
Seed bead necklace with porcelain Tree
frog beads, hyacinth speckled brown
rondelles, transparent topaz glass beads
and seed beads in gold and topaz
colors.. Unique fun necklace. A great
necklace for a frog lover. OOAK
Tree Frog Speckles Porcelain bead 11
mm, Hyacinth Speckle Porcelain
Rondelle 5 5 x 7 mm, 11/o seed beads -
Tanzanite, light brown, topaz AB, and
gold

Firewood Lariat Necklace in
browns and beige
A fun lariat necklace which can be worn
many ways. Beautiful brown and brick
seed beds and mottled 2 tone 2 holed
beads to create the flowers. Added
some 4mm Czech glass druk brown
beads. Perfect for the woman who loves
the outdoors. This necklace is one of a
kind, handmade and unique.

Bead Art Gallery - Page 2