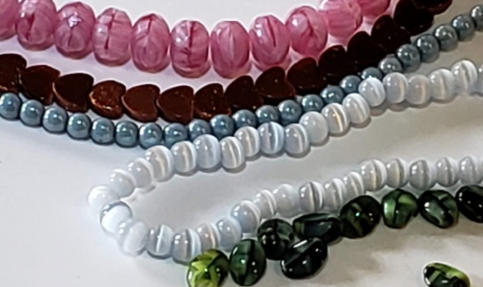 Bead Art Gallery - Page 9
Netted Necklace in Orange,
Ivory and Green with Shell
Pearl Center
19 inches long
One of a kind necklace in orange, dark
green and Ivory with a 12 mm shell pearl
center . Created with 2 stitches this
necklace has a classic look and feel.
Lovely dressed up or down.
Seed beads 11/0 - Matte Aquarious
Seed Beads 15/0 - Ceylon Light Ivory
3 mm beads - Orange
12 mm Shell Pearl White
6mm Czech Glass Pearls -Light Ivory
Gold Plated findings
Gold Filled Toggle Clasp
Monarch Butterfly Necklace
about 26 inches long
This necklace was a collaboration
between my client and me. We checked
out different types of leaves and netted
seed beads and came up with this unique
necklace. The netted chain represents the
Monarchs flitting through the sky. A very
fun and challenging piece in many ways.
The butterflies are floppy and can be
posed open or closed.
Seed Beads 11/0 - Orange Frost, Black
Matte, Ceylon Lt. Ivory, Opaque Pumpkin
Delicas, Blue Frost Rainbow
Seed Beads 8/0 Opaque Black
6 mm Glass Pearls
Superduos
Tierra Cast Antique Gold Plated Toggle
and Tierra Cast Antique Gold Plated Lily
Bead Caps
Cobalt Blue Lampwork Heart
Necklace
19 inches long plus 1 1/2 Inches for
pendant
A friend gifted me this beautiful
lampwork heart so I made this
asymmetrical necklace to celebrate it. I'm
keeping this one for myself.
Seed Beads 11/0 - Med Gold, Opaque
RNBW Cream, Matte Galvanized starlight,
Opaque Turquoise Green
Seed Beads 8/0 Inside Col Turquoise
4 mm Cobalt Faceted Glass Cubes
5 x 6 mm Czech Glass Twisted Rondelle
Dark Aqua
Lampwork Heart 20 mm
Antique Gold Plated Toggle
Trellis with
FlowersNecklace
17 inches long
Made a brown netted chain that
reminded me of a trellis. So I added
flowers. Little blue flowers, white cone
shaped flowers and some berries. Then
added a little bee.
Seed Beads 11/0 - Matte Galvanized
Starlight, Matte Olive Green, Rainbow
Emerald Translucent Green, 3 browns -
Rootbeer, Transparent Rainbow Frost
Dark Topaz and White with Travertine
15/0 Seed Beads - Ceylon Light Ivory,
Luminous Light Orange
4 mm Glass Pearls
5 mm Blue Czech Glass Flowers
Gold Plated Toggle and Bee