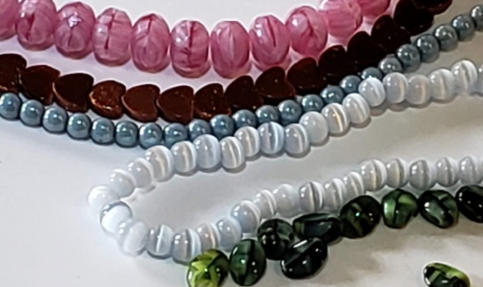 Dainty Blue Fringe Necklace
21 inches long - 1 inch wide
Dainty blue, green, gold and turquoise
seed bead necklace with 3 sizes of seed
beads and dark blue glass bicones. Very
pretty and feminine necklace. Would
make a wonderful jewelry gift. And it is
one of a kind.
Seed beads Toho 15/0 Opaque-Lustered
Turquoise, seed beads 10/0 in dark blue,
10/0 Toho in green, 8/0 beads gold, and 4
mm bicones dark blue
Three Strand Necklace in
Topaz, Green and Orange
25 ¼ inches long
Three stands of seed beads and cats eye
beads
strung through peridot colored Czech
glass beads. Perfect for an August
Birthday gift. OOAK, unique necklace.
Seed beads in topaz and gold, 4 mm cats
eye beads in green and orange, and 8 mm
Czech Cathedral Glass peridot colored
beads with fancy copper colored ends
Tea Set Necklace in Blues
20 7/8 inches long
Tiny tea set hanging from a blue and
topaz fringed necklace. One of a kind.
Perfect for a collector of miniatures, a tea
lover, or an Alice in Wonderland fan.
Seed beads in shimmery topaz , dark and
light blue and a floral blue, gray and
yellow tea set.
Lariat Seed Bead Necklace in
Green and Brown with Mood
Beads
35 inches long
Spiral woven necklace in green and
brown with hanging tassels with mood
beads. Made this a lariat so the mood
beads could be touched to watch them
change color. Fun necklace. OOAK.
11/0 seed beads brown and green, mood
beads, 6mm peridot colored glass beads,
amber purple ab glass chips

Seed Bead Necklace in Light
Peach, Brown and Turquoise
with Owl Pendant
18 inches long pendant 1 ½ inches
Little owl necklace with turquoise
accents.
Greek Bronze (plated) Friendly Owl
Charm 25x30mm, Opaque green opal
crystal faceted rondelle 3 mm, 11/0 seed
beads -brown and peach, brass toggle
Bead Art Gallery - Page 3
Spiral Seed Bead

Necklace
in Blue, Orange and Yellow
with Three Pendants
18 inches long pendants - 1 ½ inches
Pastel spiral necklace with 3 removable
pendants Change your necklace to suit
your mood. Very unusual. OOAK.
11/ seed beads - blue and yellow, 8/0
seed beads - Orange, 3 pendants - corn
on the cob, and 2 flowers
Lariat Necklace in Bright
Orange and Blue
33 1/2 inches long
Handmade bright neon orange and blue
lariat necklace. This will help brighten your
day during the winter months. The 2 holed
beads are a creamsicle color and make up
the flowers. Bright blue barrel beads are
used in the center of the flowers and as
additional decoration.
Toho seed beads in luminous neon orange,
11/0 blue seed beads, and 4 mm bright
blue barrel beads
Spiral Seed Bead
Necklace in Pink, Red
and Gray
19 1/2 inches long
Pendants - about 1 ½ inches long
Handmade red, pink and gray
seed bead spiral necklace with 2
pendants (removable). Pendants
are flowers and a red cat face - so
cute ( 2 sided - face on each side).
8/0 seed beads luminous pastel
pink, 11/0 seed beads in gray,
transparent pink and raspberry
red
toggle clasp
Spiral Seed Bead Necklace in
Terracotta and Yellows
20 1/2 inches long
Pendant - about 2 inches long
(removable)
Very pretty OOAK terracotta and yellow
seed bead necklace with brown and
yellow flowers on a terracotta base with
mottled green leaves. This necklace
would be perfect for a nature loving lady.
8/0 seed beads luminous yellow, 11/0
seed beads in terracotta and yellow
cream
toggle clasp - bronze
Tubular Seed Bead Necklace in
Yellows, Blue, Orange and
Gray
21 inches long
Handmade netted necklace with pretty
little flowers on a gray background.
11/0 seed beads light yellow, dark yellow,
blue, orange and gray with 2 blue glass
beads 6 x 6 mm
one sided toggle (Lotus) in sliver and
black